Nine new ways UK Free TV makes your life better
As you know I've been on serious painkillers whilst recuperating from a leg operation, so I haven't felt very chatty. I have, however, had lots of time to code. The site is now coded to the latest PHP Coding Standards which was a bit of task with 13 years of code to go though, and split into Model–view–controller which was actually impossible with PHP3 but de rigueur today. Anyway..
The all channels list now has a useful submenu where you can filter the list to show the channels that are just on Freeview, just on non-subscribe Sky and just on Freesat.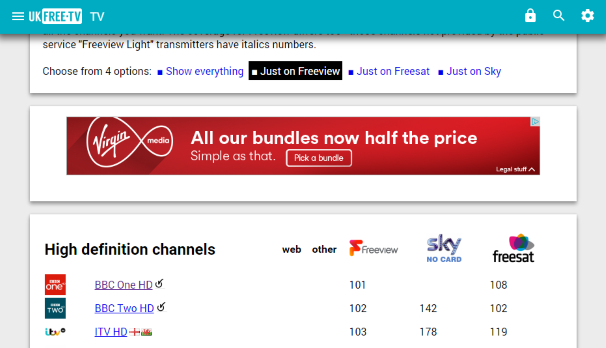 Android browser colours
If you use UK Free TV on your Android phone, the site colour scheme continues into the page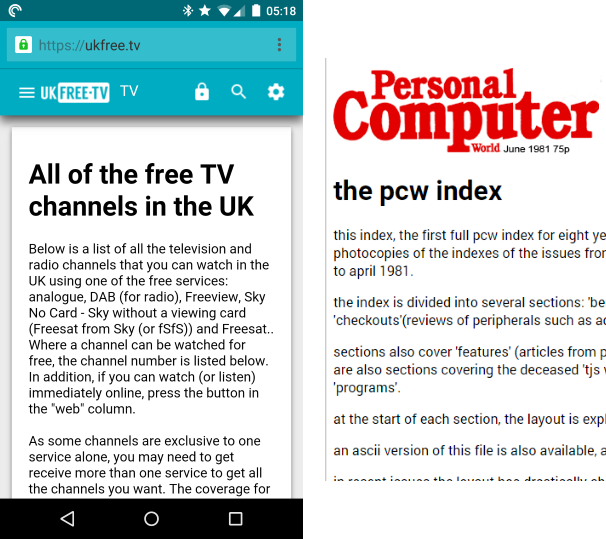 Personal computer world List
Something I did a long time ago: there is a Personal Computer World index 1981-1998.
Better channel compare
The pages that show the different TV and raidio stations in a way that allows you to compare say Freeview Light and Freesat has a menu once again. You can also see the Defunct Channels List too.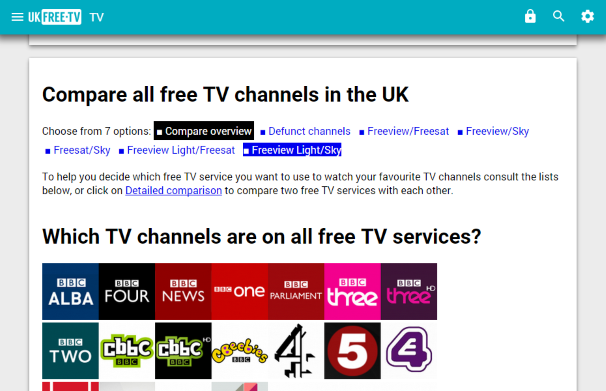 KML and Google Earth.
If you use Google Earth and would like to see all of the Freeview transmitters on it, you can click on this link to download a KML file to do that. This is in addition to using the Google Earth link on many of the transmitter pages.
Better prediction information
On the TV prediction page there is a now a much improved TV full details page. The layout is clearer and it works even on a mobile phone. You can still choose dates in the past when things changed, as well as finding out what the difference between a wideband and a grouped (A, B, C/D, E or K) will make to your TV reception.
In addition you can sort the list by clicking on one of the headings (channel, name, signal strength, direction, transmitter).
Better regions maps buttons layout
On the pages that map the BBC, ITV and micro Freeview regions, the layout has much improved. It is now possible to use these selectors with a finger press.
Better search
Press the Magnifying Glass Symbol on any page! The search page has been improved. It still searches this site (as well as media.info, dxinfocentre.com, getmedigital.com, lyngsat.com, tvcatchup.com, and at800.tv)
DAB and FM?
And don't forget the new Radio Prediction and mapping system!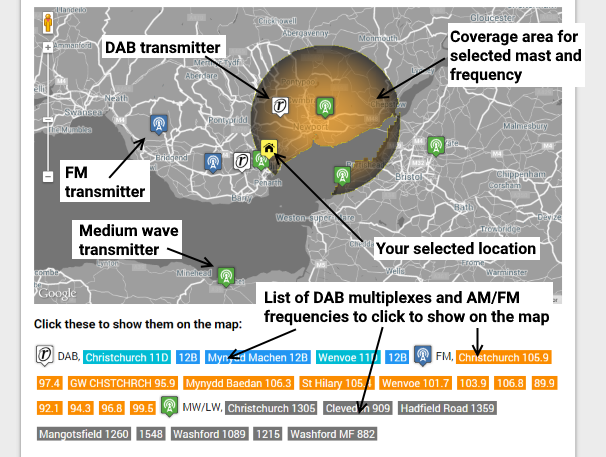 Of course, if there is anything that doesn't work for you, let me know.
Comments
Tuesday, 18 August 2015

The all channels page.

If I click on 'Show everything' or 'Just on Freeview' or 'Just on Freesat' or 'Just on Sky'
the page reloads and always shows 'Show everything'?

I've tested it with Windows 7 and Windows 10.

Also, could you add an option to 'Just on Freeview basic' as well
as 'Just on Freeview' shows all the Com multiplexes' that are not available.

You could also add a tick box to display or hide the HD channels and channels like Film 4 SD that requires a HD box.

Mark A's 368 posts
Saturday, 22 August 2015

Mark A: When I look at All of the free TV channels on Freeview in the UK it says "All of the free TV channels on Freeview in the UK" and lists only those on Freeview, and none that are only on Sky/Freesat.On all these lists those on Freeview Light only are in normal text with those only on Full Freeview are in italics. Is that too subtle?And the HD channels are all listed separated out at the top of the page.

Briantist's 38,844 posts

I've just fixed the bug that was preventing the "tooltips" in the channel lists showing details about the TV and radio stations. Turned out to be the wrong version of a helper class...

Briantist's 38,844 posts

Just testing the faster-redirect after posting comment.

Briantist's 38,844 posts
Saturday, 3 October 2015

hi just puchased a ferguson hd 100 free sat reciever, I have the silvercrest hd reciever with restricted channels whilest abroad. can i use the ferguson free sat to obtain UK tv in france..

t simpson's 1 post
Your comment please