Changes tonight at The Wrekin, Lark Stoke, Bromsgrove, Mendip, Hunshaw Cross

Brian Butterworth published on UK Free TV
(For details of Oxford switchover, including Ascott under Wychwood, Charlbury, Guiting Power, Icomb Hill, Over Norton see the switchover ends article.)

Tonight the changes below take place. If you use these transmitters, you will need to perform a a "first time installation" retune (sometimes "Factory Reset" or "Shipping Condition") on your Freeview box or televisions set at around 6am in the morning.

If you can't recall how to do a "first time installation", you can do this: My Freeview box has no EPG, is blank on FIVE, ITV3, ITV4, ITV2+1, has no sound or the channel line up is wrong

The changes are:




The Wrekin - SDN moves from C31 (and C49) to C41+, ArqA moves from C57 to C44, ArqB moves from C53 to C47.

Lark Stoke - SDN moves from C31 to C41+, ArqA moves from C57 to C44, ArqB moves from C60 to C47.

Bromsgrove - SDN moves from C31 to C41+, ArqA moves from C29 to C44, ArqB moves from C34 to C47 - note ALL OUT OF GROUP - WIDEBAND AERIAL REQUIRED




Mendip - MuxA on C62 becomes SDN on C48 (final due to Oxford end), Mux C on C56 becomes ArqA on C67 (moves again 28 Match 2012), ArqB moves from C67 to C52 (final due to Oxford end).

Cirencester (9am) - D3+4 moves from C30 to C29 (due to Oxford end)

Hutton (9am), Portishead (noon), Woodcoombe (9am) - BBCA moves from C48 to C59 (no longer used at Mendip), D3+4 moves from C52 to C62 (no longer used at Mendip).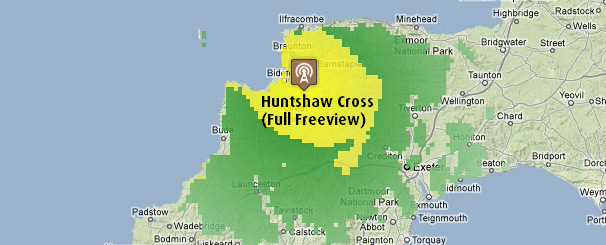 Changes at Mendip allow COM multiplexes at Huntshaw Cross to now operate at full power.
Comments
Wednesday, 28 September 2011

Yes Goodbye,Wrekin B,

Born Dec 6th 1999

Died Sept 28th 2011..

Lived life,with an severe null so not to interfere with analogue Brierley Hill transmitter,therefore giving us no Mux C or Mux D in South-east Shropshire.

Rest in Peace....

Aerialman's 139 posts

Yes, great news! At long last we can get all the Freeview channels at full power from Lark Stoke. Re-installed two seperate boxes and TV (with built-in Freeview) this morning with no problems. About time, too!

Mark Nobes's 16 posts

hi the mendip transmitter has been upgraded and since then i cannot get a lot of the freeview channels or i get them for a while then lose them again? i have tried doing a complete reinstall but this doesnt work, can you offer any other advice please?

mr hollister's 1 post
Thursday, 29 September 2011

Wrekin Transmitter - having completed a 'factory reset' and retune still there are channels (eg ITV4) that remain with 'no signal' or Quality 1 - ie unwatchable. Why ?

Must I to switch to satellite ?

Mike Green's 4 posts

Hi, sorry if the question has been asked & answered already (I couldn't see it), but as of 28-Sep-2011 what are the channel numbers (I know they were previously 61, 54, 62, 56 & 67). I seem to need these to get my Humax PVR setup properly (had issues previously, which were solved when Humax Support advised to manually scan using these channel numbers). Thanks in advance.

Sean's 2 posts

Sean: replied on main Mendip board.

mr hollister:
First, try doing a Factory reset from the Setup menu and if needed do an Automatic Install, both with the aerial unplugged - This should completely clear all previous setups.
Then, plug the aerial in and do a new Install.
If that doesn't work, tell us -
Were you actually receiving from Mendip or one of the Relays? Which Multiplexes did you previously get and were they stable?
Please also give your postcode if you've still gopt a problem.

Chris.SE's 251 posts

Mike Green: Hard to say without a full postcode, can you see Freeview signals: too much of a good thing is bad for you | ukfree.tv - independent free digital TV advice for a list of things to check?

Briantist's 38,844 posts
Monday, 3 October 2011
Ed Myer
3:20 PM
Chippenham

Since the retune on 28-9-11, I have a very, very weak signal on Pick TV. Most times I get the 'No signal' logo.

I previously had a strong signal. What can i do, I have a new, less that 1 year old ariel, pointed at the Mendip transmitter.

Any help would be appreciated.

Ed

Ed Myer's 2 posts

Would someone please advise if the latest 28/09/2011 changes to the requirement for a wideband aerial for Bromsgrove would have been widely known about in 2009. My reason for asking is my housing trust say " Our stock was assessed during 2009 to establish which communal aerials required upgrading to ensure compatibility with the new digital signals being provided from the Sutton Coldfield site ".
As I now have a very low signal on channels 41/44/47 I wondered if the aerial could be the reason.
Thank you.

Trevor's 9 posts

I should point out that we obtain our signals from Bromsgrove,

Trevor's 9 posts
Select more comments
Your comment please